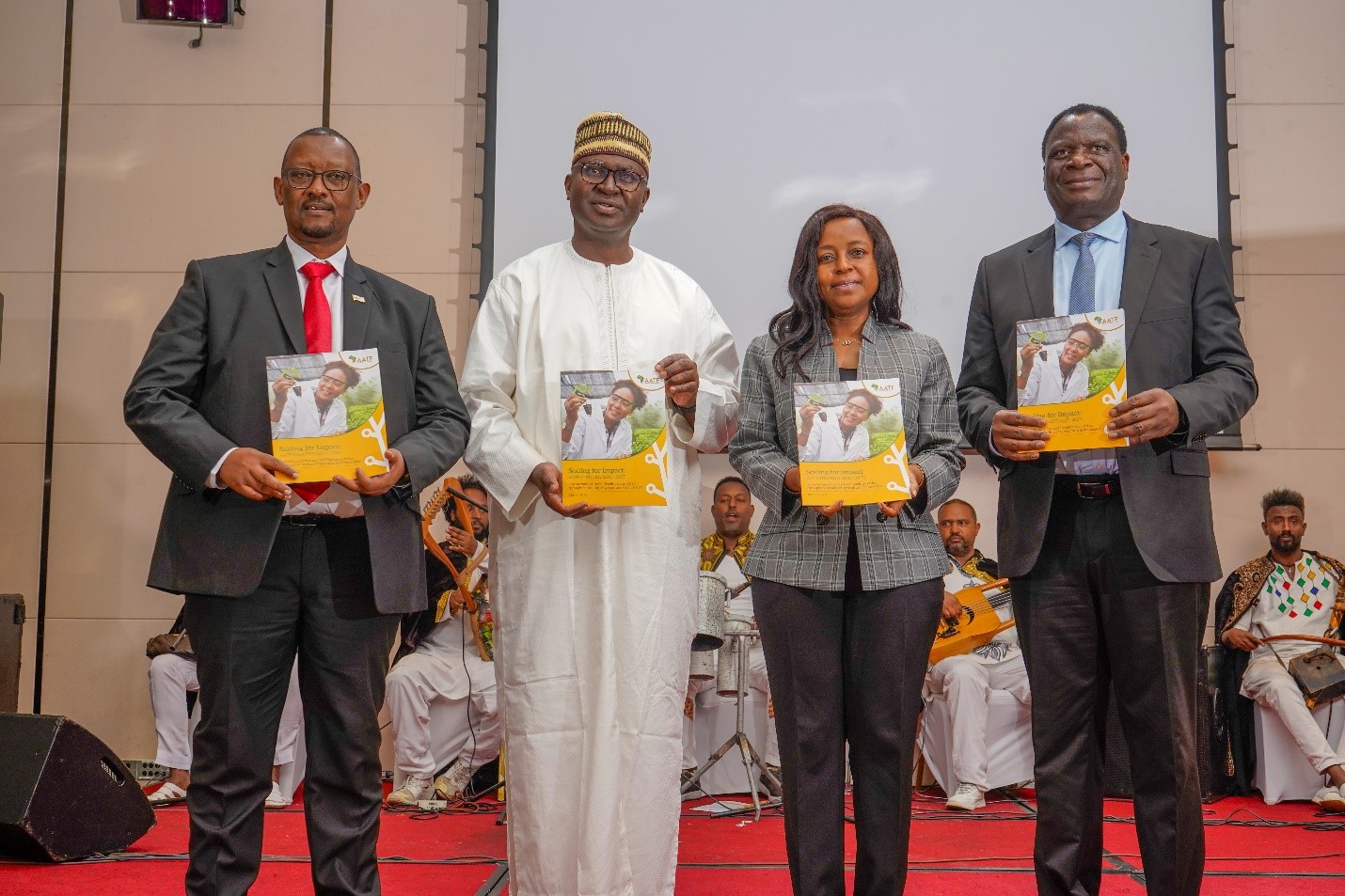 [Addis Ababa, Ethiopia, May 11, 2023]: AATF has unveiled its new strategy for 2023-2027, that outlines an ambitious plan to enhance technology development and commercialization for farmers in Africa. With focus on Scaling for Impact, the strategy aims to achieve a prosperous, resilient, food and nutrition-secure Africa. The strategy complements key commitments to agricultural transformation as envisioned in the African Union Agenda 2063.
A key plank of the new strategy is the deployment of Next Generation (NextGen) agricultural technologies and a renewed focus on effective scaling to achieve transformation.
H.E. Dr. Goodluck Jonathan, former President Federal Republic of Nigeria and AATF Ambassador for Agriculture Technology in Africa expressed his pleasure with AATF's goal of a food-secure and economically vibrant Africa. He emphasized agriculture's role in meeting the food needs of a growing global population in Africa that is estimated to reach 1.8 billion by 2035.
In a recorded speech to participants, Dr. Goodluck said he looked forward to spreading the message on the benefits of technology for Africa's farmers, particularly smallholders. "The long-term vision and objectives outlined in the AATF Strategic Plan 2023-2027 will build on our continental and global commitments to end hunger and poverty on this continent," he observed.
Speaking at the launch of the strategy in Addis Ababa, Ethiopia in May 2023, Dr Aggrey Ambali, the Chairperson, AATF Board of Trustees, noted that the organisation will place emphasis on improving existing technologies and transforming them into super NextGen technologies capable of effectively addressing the many challenges faced by African farmers due to emerging challenges in the region.
''The launch marks an exciting moment for AATF as it re-energises for the future with learnings from the past and promises to ensure African farmers get a better, brighter future through results-based approaches,'' said Dr Ambali.
He reaffirmed AATF commitment in intensifying efforts to forge partnerships with like-minded organizations including governments, political leaders, scientists, development agencies, and farmers alike, to harness the latest advancements in Science, Technology, and Innovation (STI) for the promotion of sustainable agricultural transformation across the continent.
According to Dr. Canisius Kanangire, the AATF Executive Director, the organization will contribute to changing Africa's agriculture through a three-tier approach of diversifying agricultural technologies and expanding frontiers for NextGen products in Africa; acceleration of commercialization and scaling of agricultural technologies; and promotion of a functional enabling environment for increased uptake of agricultural technologies and efficient markets.
Dr. Kanangire said the new strategy demonstrates AATF's renewed commitment to work closely with partners to continue providing farmers in Sub-Saharan Africa with practical technology solutions to overcome farm productivity constraints. The new strategy also expressly focuses on increasing the participation and benefits for youth and women in agriculture.
While delivering his goodwill message at the launch, Hon. Dr. Belete Molla, Cabinet Minister, Ministry of Innovation and Technology, Federal Democratic Republic of Ethiopia, noted that Africa is no longer in the era of talking about embracing technologies, but rather choosing modern technologies that have been proven to transform economies.
"Africa should aggressively invest in STI to cushion the continent from ravaging poverty that is still affecting most countries in the region," said Dr. Molla, adding that an Africa-led organisations such as AATF, is practically working to respond to agricultural challenges through technology and ultimately creating wealth for farmers in Africa.
In the last two decades, AATF has dedicated itself to promoting innovative agricultural technologies that address farmer productivity constraints, working with partners across the continent to access 24 innovative and cutting-edge agricultural technologies worth over US$650 million spread across 24 countries and reaching 4.8 million smallholder farmers with new interventions during the last five years.
########
About AATF (www.aatf-africa.org)
Founded in 2003 to address Africa's food security prospects through agricultural technology, AATF believes that the agricultural sector is a key foundational pillar as Africa consolidates its economic growth and carves out its new position as a major global economic powerhouse and the next growth market in the world. It was formed in response to the need for an effective mechanism that would facilitate and support negotiation for technology access and delivery and formation of appropriate partnerships to manage the development & deployment of innovative technologies for use by smallholder farmers in SSA:
For more information contact: George Achia, Communications Officer, East and Southern Africa, AATF; g.achia@aatf-africa.org +254 785334163