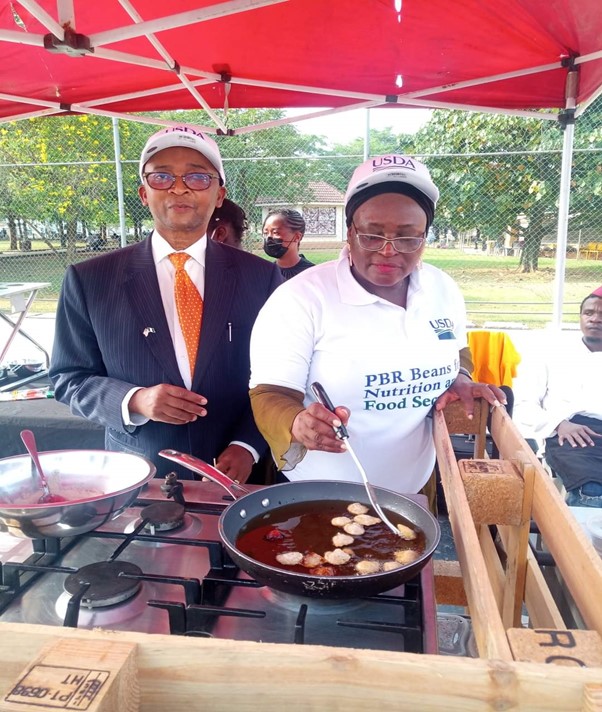 By Alex Abutu
Humans are by nature the most complex of all creatures. Their ability to think and reason explains why it is difficult to convince them to embrace new things. They are comfortable with what they have lived with over a long period.
Most change managers fail because they lack the patience and skills to persuade others to see things from a different perspective. The biblical Thomas doubted the resurrection of Jesus, demanding physical proof of the wounds from Christ's Crucifixion. Doubts in absence of proof engulf people's thoughts therefore, seeing-is-believing presents a unique opportunity to show, and not telling, enhances communication, especially that of complex sciences.
Because of doubt, Africa is a playground where almost every new technological innovation is not only doubted but often fiercely contested. While they may not resist fast-emerging technologies in communication, medicine or healthcare, Africans have been slow to accept agricultural biotechnology. The reason is not far. Food is central to all life. People are, especially, sensitive about it, because it goes into their stomachs. Accordingly, they want to be absolutely sure about any changes around it, before they can embrace them.
In the past decade, Nigerian scientists have developed an insect-resistant variety of cowpea, popularly called beans in Nigeria. The Pod Borer Resistant (PBR) bean variety has been successfully released to farmers in Nigeria and Ghana through a decade of intensive and guided efforts. This seemed like what farmers of one of the most consumed staple crops in Nigeria had been waiting for, as the subsequent demand for the seeds of the PBR cowpea has been overwhelming. They have even taken their excitement a notch higher by calling for the deployment and integration of technologies into agriculture as a way of assisting them to overcome the numerous challenges they face.
Naysayers and armchair critics have rubbished the success stories from farmers who have embraced the new cowpea. They have attempted to dampen the success of Nigerian scientists, by discouraging farmers from adopting this early maturing bean variety that can withstand Maruca vitrata, a major destroyer of cowpea in the field. The variety can also stand against mild drought.
These anti-technology crusaders have perpetually pushed out messages without scientific backing, to instil fear in the minds of the ordinarily Nigerian on the safety of this bean variety. 
AATF, through the Open Forum for Agricultural Biotechnology (OFAB) project platform, has deployed creative means of proving scientifically and practically that the bean is safe for human consumption. One such initiative, introduced by OFAB, is the Eating-is-Believing (E-i-B) example.
OFAB is an advocacy platform, established by AATF, and is currently operational in Uganda, Tanzania, Nigeria, Burkina Faso, Rwanda, Ghana, Kenya, Mozambique and Ethiopia. It is providing guidance and scientifically-based information to policymakers, farmers and the public on biotechnology.
The Nigerian coordinator of OFAB, Dr Rose Gidado, a deputy director at the National Biotechnology Development Agency (NABDA), has been resolute. According to her, the sceptics have lost the battle. "We have demonstrated the safety of this bean variety, not only on the farmer's field, but we have gone ahead to introduce eating-is-believing because the availability of evidence is the end of arguments," she says.
Eating-is-Believing, as championed by OFAB, brings local caterers together to cook various Nigerian delicacies, using the PBR.  The public is then given the opportunity to taste, to ascertain that it does not differ from what they are used to. The exercise has been conducted in Abuja and Lagos, with testimonies from those who ate the delicacies made from the PBR Cowpea suggesting that the anti-technologists may have failed in their attempt to deceive Nigerians.
Arc Kabir Ibrahim, President of the All-Farmers Association of Nigeria, had this testimony after tasting the Akara (bean cake) made from the PBR Cowpea at the Lagos event, "I have been eating Akra (bean cake) since my childhood but have never tasted any as delicious. Nigeria has accepted this bean variety and it has come to stay. Farmers all over the country are already counting their blessings from just one season of planting. For us, it is forward ever."
Just as he spoke for Nigerian farmers, other members of the public have also spoken for themselves, affirming that there is no difference in the taste, appearance, and every characteristic of the PBR bean, and the delicacies made from it. If anything, they said, it tastes even better.