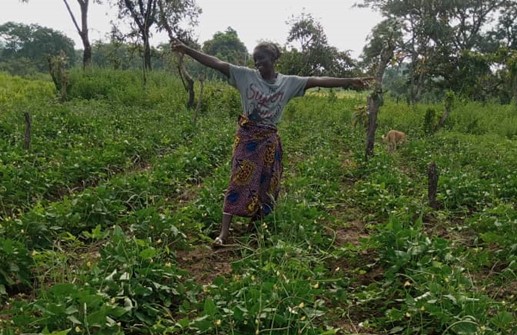 The Pod Borer-resistant (PBR) cowpea under cultivation in Nigeria is adjudged to be the best-performing variety in Africa, the Institute of Agricultural Research (IAR), Ahmadu Bello University, Zaria, has said.
Prof. Muhammed Ishiyaku, the IAR executive director, said the variety, also known as Sampea 20-T, was one of the best produced under scientific research. The variety was commercialized in 2019 and released to farmers in 2021.
Prof. Ishiyaku stated this at a June 22 media briefing to commemorate the first anniversary of the release of the variety to farmers. The PBR Cowpea principal investigator said the variety was effective in terms of yield production and return on investment.
Emphasizing that the variety is resistant to insects and is easy to produce, he said the cost of production was reduced dramatically "with just two spreads of insecticides during the production process".
"I advise Nigerian farmers to disregard the rumours sponsored by the anti-technology groups to discredit the variety and adopt it on your farms to boost production," Prof. Ishiyaku added.
A cross-section of farmers who testified about the efficacy of the variety said it delivered beyond their expectations.
Hajiya Dije Saidu Tudun Wada, who revealed that she has been farming cowpea for more than 30 years, said she had never encountered a better variety than the PBR Cowpea. "We have just planted for only one season, but the variety is more popular in Southern Kano than any other variety of beans," said Ms Wada.
She said the variety matures fast, produces full buds, does not require numerous chemical sprays, yields heavily and its fodder is good for livestock.
Abubakar Musa said: "Since I began farming this variety, I have never taken my harvest to the market as customers come to my house to buy it." Mr Musa said he was overwhelmed with questions from other farmers on how to get the PBR Cowpea seeds.
Iliya Ceto Voka, a representative of Gold Agric Nigeria Limited, said: "We received a stock of 2,500kg of the variety and sold all in less than 14 days. We got many calls from within and outside the state asking for the variety even after we had exhausted stock". Three Seed companies pioneered PBR Cowpea marketing in Nigeria when it was commercialised but because of increasing demand for the seeds, more companies are being evaluated for licensing.