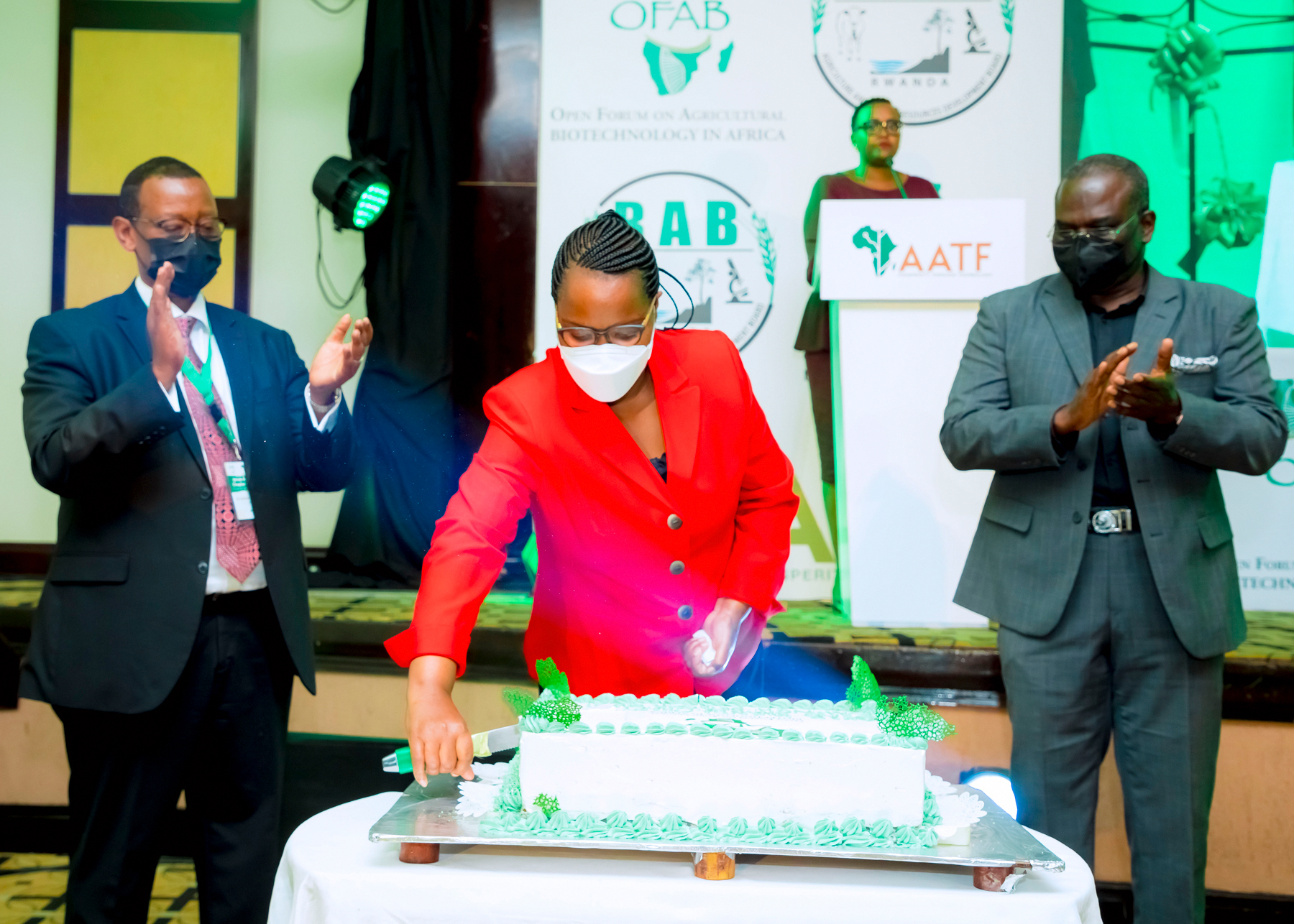 The African Agricultural Technology Foundation (AATF) and the Rwanda Agriculture and Animal Resources Development Board (RAB) have today launched the country's Chapter of the open Forum on Agricultural Biotechnology (OFAB) to enhance awareness and knowledge sharing on innovative agricultural technologies in the country.
Established by AATF in 2006 as a platform for stakeholder interactions on agriculture biotechnology, OFAB is in seven other countries including Burkina Faso, Ethiopia, Ghana, Kenya, Nigeria, Uganda and Tanzania. The Rwanda OFAB chapter will be hosted by RAB.
In the third phase of the project, OFAB intends to expand its outreach through the establishment of new chapters in Malawi and Mozambique.
''By embracing technological upgrading and building capacity for our farmers and rural value chain actors, I believe they will make informed decisions to be at par with the rest of African countries who are already benefiting from agricultural biotechnology such as South Africa, Kenya, Nigeria, among others'' says Hon. Minister Dr. Geraldine MUKESHIMANA, Minister for Agriculture and Animal Resources.
Africa is yet to adopt agricultural biotechnology in an optimal way as one of the solutions to agricultural production challenges MUKESHIMANA adds.
"We view the joining OFAB by Rwanda as a great milestone for agriculture stakeholders to interact and share knowledge on agriculture biotechnology. This knowledge is critical to stakeholders who need to make informed decisions amidst misconceptions about biotechnology", Hon. MUKESHIMANA said.
While noting that biotech is the most suitable tool to spur sustainable development in Africa, the Hon. MUKESHIMANA noted that Rwanda is now on the same level as other African countries using various platforms to engage the public about opportunities in biotechnology to mitigate agricultural production challenges.
''As a continent, we are still hesitating due to the bad press GM products have received for the past decades. It is worth noting that the food import bill for Africa rose to USD49 billion in 2019 from USD35 billion in 2015. We need to use homegrown scientists' innovations to help reduce the food import bill and to repurpose these savings to other socio-economic programmes'' MUKESHIMANA said.
The collaboration supports Rwanda's commitment to improving the lives of its smallholder farmers as captured in its Strategic Plan for Agriculture Transformation-2018-2024 (PSTA4), says Dr. Canisius Kanangire, AATF, Executive Director.
AATF on the other hand has established itself as an African-led not-for-profit organisation, that works in 23 countries, including Rwanda, towards empowering the smallholder farmer through access to technologies that can make a difference to their livelihoods, Kanangire observes.
''Although Rwanda is active on the biotechnology front with tissue culture work, it is still not engaged in commercial production of any genetically modified crops''
''But the country has made important steps towards the establishment of the necessary legal and regulatory framework, through the Biosafety Law, as well as the National Strategy for Implementation of Biosafety Framework'' Kanangire explains.
The collaboration between AATF and RAB follows discussions going back to 2019 between the two institutions that identified biotechnology awareness creation as a key area of partnerships in support of their mandates of encouraging technology uptake by smallholder farmers.
With the launch, Rwanda agriculture stakeholders will get a chance to participate in conversations on the role of science technology and innovation (STI), particularly biotechnology, in the transformation of agriculture in Africa.
The establishment of the OFAB chapter will also help close the information gap on agricultural biotechnology and consequently demystify the attendant myths and misconceptions about the technology.
The Rwanda OFAB chapter launch comes at a time when Africa's agriculture-dependent economy is facing a myriad of challenges relating to agricultural production including climate change, new pests and diseases and finite land. These challenges require special attention to enable optimal production yields that are also friendly to the environment.
According to Dr Emmanuel Okogbenin, Director, Programme Development and Commercialization (PDC) at AATF, in a recent journal publication published in Afrika focus, the agricultural sector constitutes 32% of the continent's GDP. The ongoing agricultural transformation agenda in Africa hinges on a system change, from subsistence farming to agribusiness approach, that explores high productivity to strengthen the African economy.
During the "Green Revolution" period in Asia, increased global yields of cereal crops were achieved through the interactions of breeding and agronomy. However, in the face of current challenges such as climate change and the need for new market niches, there is an increasing exigency to explore modern plant breeding, including biotechnology.
Modern breeding methods will help develop new varieties with the capacity for high yields in reduced chemical-input systems and with the genetic diversity needed to maintain yield stability in Africa´s fluctuating climatic conditions.
Biotechnology has significantly shortened the time required for the development of new cultivars, varieties and hybrids. Modern breeding tools include Double Haploid technology, marker-assisted breeding, genomics, genetic engineering and genome editing. These tools help accelerate the development of market-responsive varieties needed for sustainable agriculture in Africa that will be highlighted.
The technicality of biotechnology, therefore, needs a consistent information sharing platform so that stakeholders can understand the technology and consequently choose innovations based on scientific knowledge amidst propaganda and misinformation about the technology.
The Government of Rwanda is committed to improving the lives of its smallholder farmers who, like many other farmers in Africa, have continued to face challenges such as low crop productivity attributable to pest and disease prevalence, declining soil fertility and weather-related challenges.
Founded on the premise of tackling poverty and food insecurity through technological interventions, AATF focuses on enhancing productivity and incomes for smallholder farmers and building an enabling environment for better performance and transformation of agriculture on the continent.
AATF achieves this objective through a public-private partnerships model that empowers farmers to transform their livelihoods with better tools and inputs that would, without the organisation's intervention, take a much longer time to reach them and cost a lot more.
In attendance were the Director-General Rwanda Agriculture and Animal Resources Development Board (RAB), the Director-General Rwanda Environment Management Authority (REMA), Chair AATF Board of Trustees, development partners, CGIAR representatives, OFAB chapters and the media.
About AATF (www.aatf-africa.org)
Founded in 2003 to address Africa's food security prospects through agricultural technology, AATF believes that the agricultural sector is a key foundational pillar as Africa consolidates its economic growth and carves out its new position as a major global economic powerhouse and the next growth market in the world. It was formed in response to the need for an effective mechanism that would facilitate and support negotiation for technology access and delivery and formation of appropriate partnerships to manage the development & deployment of innovative technologies for use by smallholder farmers in SSA
For more information contact:
Verenardo Meeme, Programme Officer – Open Forum on Agricultural Biotechnology Technology (OFAB), AATF; V.Meeme@aatf-africa.org +254 711059767