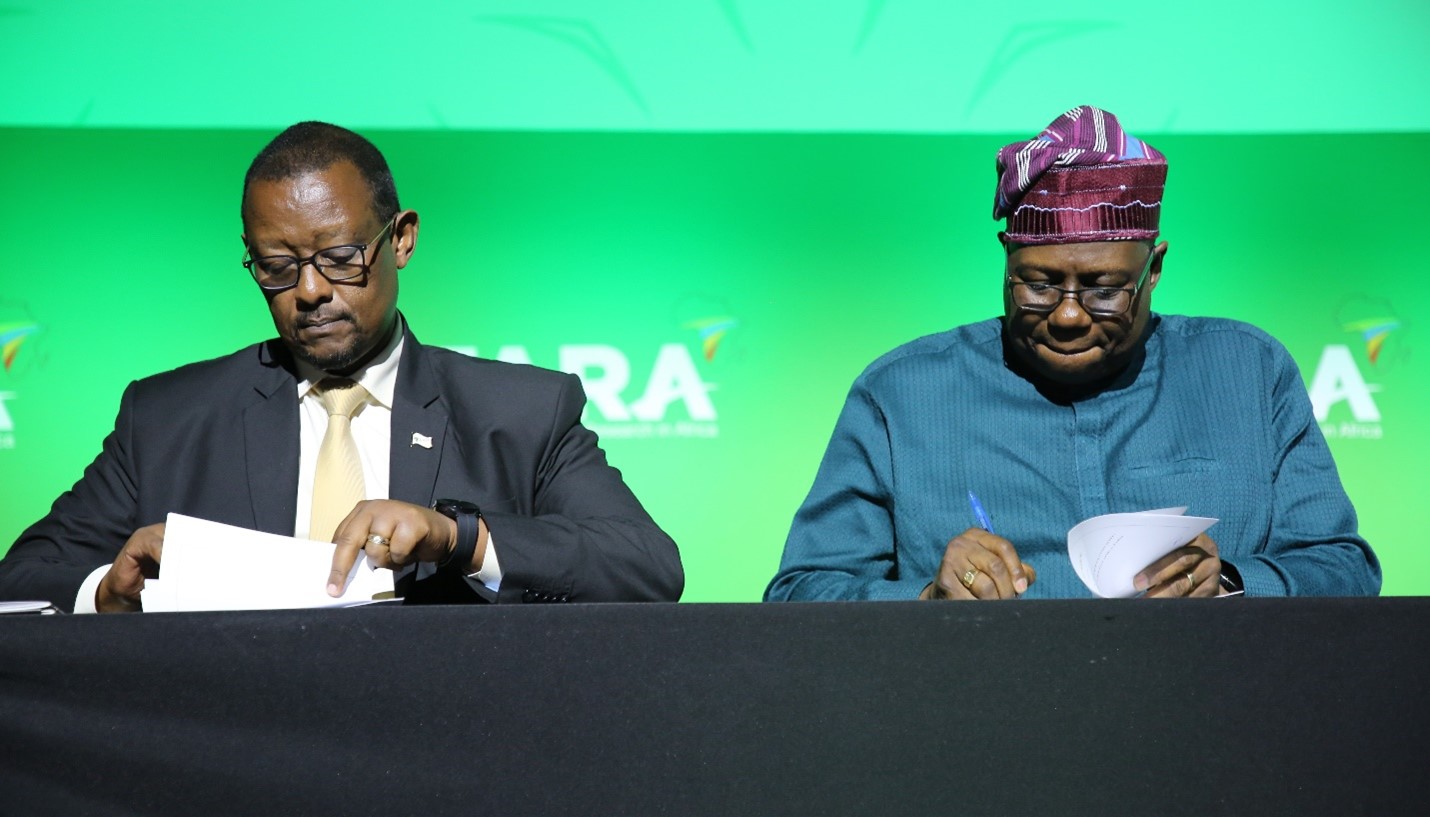 [Durban, South Africa, June 2023]: AATF and the Forum for Agricultural Research in Africa (FARA) have signed a five-year Memorandum of Understanding (MoU) to raise productivity, competitiveness, and resilience of agriculture in Africa through research, policy advocacy, technological development, delivery, and uptake.
The partnerships agreement will promote generation and uptake of Science, Technology, and Innovation (STI) to accelerate agricultural development in Africa, including diversification of agricultural technologies.
Dr. Yemi Akinbamijo, the outgoing Executive Director, FARA, noted that the pact will support in enhancing the capacity of Africa to advance climate smart agriculture, especially improving climate change resilience among farmers in Africa.
He observed that through the agreement, the two organisations commit to promote a conducive policy environment for the access, development and delivery of agricultural technologies and products with focus on acceleration of their commercialization for a food secure Africa.
"Our joint activities would include, among others, to design and leveraging of mechanisms for exchange of technology-based innovations, information and knowledge that will empower Africa's researchers, decision makers, influencers and technology users," said Dr. Akinbamijo.
According to Dr. Canisius Kanangire, the Executive Director of AATF, the partnership agreement with FARA will help raise agricultural productivity to improve livelihoods of smallholder farmers on the continent, noting that AATF is keen on transforming farmers livelihoods in Africa through scaling of agricultural technologies.
"Our strategy 2023-2027 reinforces the need for partnerships with like-minded organisations and leveraging each other's strength to deliver our mandate to farmers in Africa. We are therefore committed to building partnerships with continental bodies such as governments, national and international research institutions, FARA and its constituent bodies, Regional Economic Communities, farmer organisations, the private sector, and all players along the agriculture value chain, to deliver agricultural value to our farmers," he noted.
He added that smallholder farmers in Africa continue to face various constraints that hinder their ability to increase their yields, improve their incomes, and contribute to food security.
According to Dr. Kanangire, the situation can change by investing in new farming technology for Africa—from better seeds to digital tools to machinery—which hold promise for transforming African agriculture into an engine of economic growth that will have benefits far beyond the farm sector.
The MoU was signed during the 8th Africa Agribusiness and Science Week held in Durban, South Africa.
########
About AATF (www.aatf-africa.org)
Founded in 2003 to address Africa's food security prospects through agricultural technology, AATF believes that the agricultural sector is a key foundational pillar as Africa consolidates its economic growth and carves out its new position as a major global economic powerhouse and the next growth market in the world. It was formed in response to the need for an effective mechanism that would facilitate and support negotiation for technology access and delivery and formation of appropriate partnerships to manage the development & deployment of innovative technologies for use by smallholder farmers in SSA:
About FARA (www.faraafrica.org)
FARA is the continental apex organization for agricultural research and innovation in Africa. With its Secretariat based in Accra, Ghana, FARA serves as a platform for stakeholders in the continent's agriculture research and innovation space to mobilize collective actions including the articulation of common positions. FARA is mandated by the African Union Commission and the African Union Development Agency (AUDA)-NEPAD to coordinate the formulation and operationalization of continental research and innovation policies, initiatives and programmes designed to achieve the continent's food and agriculture development targets. These targets include doubling agricultural productivity, improving nutritional status, halving post-harvest losses, tripling intra-Africa trade in agricultural commodities and increasing resilience to climatic, pest and disease shocks. FARA performs these functions in collaboration with sub-regional agricultural research and innovation organizations in East and Central Africa (ASARECA), Southern Africa (CCARDESA), West and Central Africa (CORAF) and North Africa (NAASRO), as well as the Africa Forum for Agricultural Advisory Services (AFAAS). FARA counts on the CGIAR, AATF, amongst others, as a key strategic partner.
For more information contact:
George Achia, Communications Officer, East and Southern Africa, AATF; G.achia@aatf-africa.org ; +254 785 334163
Benjamin Abugri, Knowledge Management & Communications Officer, FARA; babugri@faraafrica.org ; +233201734038