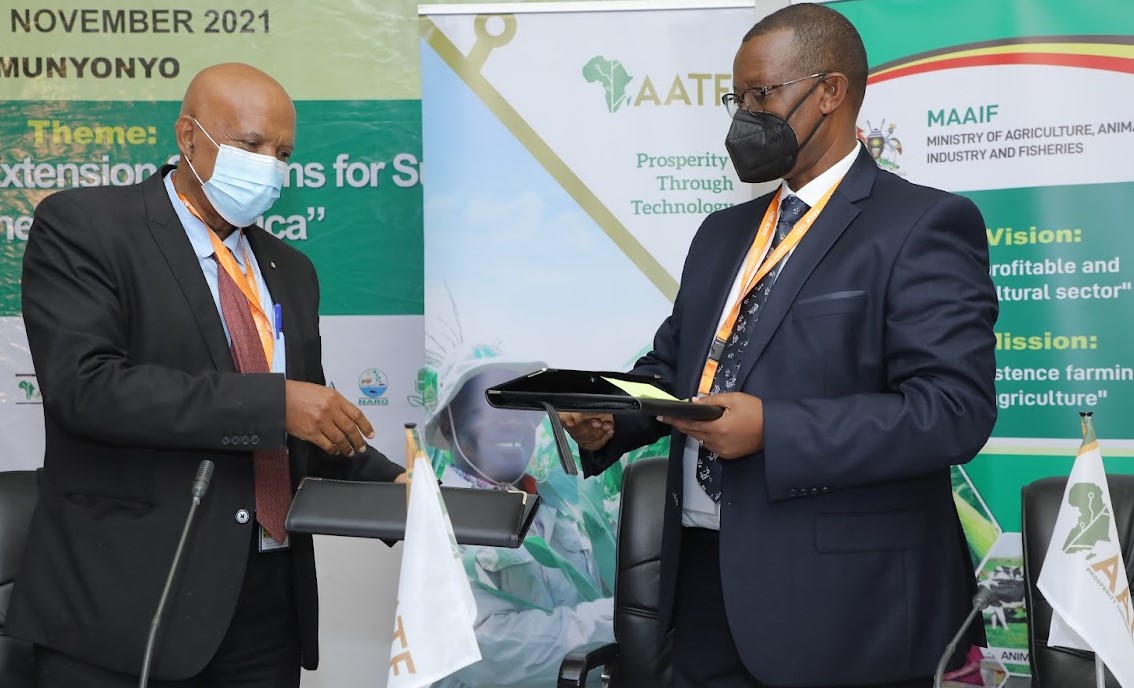 [Munyonyo, November 16, 2021]: Today, AATF and African Forum for Agricultural Advisory Services (AFAAS) have announced a five-year partnership agreement aimed at enhancing the utilization and adoption of productivity-enhancing technologies; value-adding processes and, loss-reducing practices among smallholder farmers in Africa.
The agreement will establish a long-term relationship for purposes of carrying out complementary research, innovation, institutional development, and capacity building.
The organisations agreed to focus on two core areas of work covering technology adoption, uptake and use including post-harvest management and advocacy on policy, regulations and legislation related to technology uptake and utilization.
The collaboration will see AATF and AFAAS develop training modules and materials for use by extension services providers; support development and implementation of product promotion and promote demonstration gardens for newly released varieties.
In addition, the organisations will jointly contribute to policy advocacy through the provision of proven scientific information on agriculture extension and technology adoption in Africa.
Speaking after signing the partnership agreement, Dr. Canisius Kanangire, the AATF Executive Director said the collaboration and partnership will go a long way in enhancing the mandates of the two organisations that seek to empower smallholder farmers across Sub-Saharan Africa with a wide choice of agricultural innovations that generate wealth and health for their families and communities.
"At AATF, we seek synergy and complementarity of other players such as AFAAS in the agricultural space to deliver agricultural technologies to farmers," he said.
Dr Silim Nahdy, the Executive Director, AFAAS, stated that the agreement will help push cutting-edge agricultural technologies including biotechnology to the hands of farmers to enhance productivity and livelihoods.
"AATF and AFAAS will seek the best means of supporting each other where possible and necessary to enhance the voices of stakeholders in relation to policy matters. We will lend our voice as appropriate as representing extension services across the region," said Dr. Nahdy, adding that the agreement will create the much-needed synergies between the two organisations to bring more impact at the farm levels through extension service.
About AATF (www.aatf-africa.org)
Founded in 2003 to address Africa's food security prospects through agricultural technology, AATF believes that the agricultural sector is a key foundational pillar as Africa consolidates its economic growth and carves out its new position as a major global economic powerhouse and the next growth market in the world. It was formed in response to the need for an effective mechanism that would facilitate and support negotiation for technology access and delivery and formation of appropriate partnerships to manage the development & deployment of innovative technologies for use by smallholder farmers in SSA:
About AFAAS
African Forum for Agricultural Advisory Services (AFAAS https://www.afaas-africa.org) is a Continental body that brings National Agricultural Extension and Advisory Services (AEAS) stakeholders under one umbrella. The AFAAS' goal is to enhance utilization of improved knowledge and innovations by agricultural value chain actors for improving productivity oriented towards their individual and national development objectives. AFAAS desires to ensure enhanced competency of AEAS providers to enable them better address the increasing needs and demands of various value chain actors. The AFAAS Mission is ''Promote lesson learning and professionalism and add value to national agricultural extension and advisory service systems'', while the Vision: Agricultural Advisory Services that effectively and efficiently contribute to sustained productivity, profitability and growth of African agriculture for poverty reduction". AFAAS 2018-2027 strategy focuses on three pillars namely: (i) strengthening and expanding network and knowledge management capacities. (ii) developing capacities for scaling out technologies and innovations (iii) facilitating advancement of AEAS. Notably, Agricultural extension is a key component of the innovation system, plays a pivotal role in promoting productivity, increasing food security, strengthening rural communities, and underpinning agriculture as the engine of pro-poor economic growth and one of the key pillars for transforming rural livelihoods and contributing to Africa's agenda 2063.
For more information contact:
George Achia, Communications Officer, East and Southern Africa, AATF; g.achia@aatf-africa.org +254 785334163
For more information on AFAAS, Contact Max Olupot +256782848225; molupot@afaas-africa.org