Unlike the bright-eyed optimism wielded by many school leavers, Jacob Kuya of Kakamega County, Butere sub-county in Marama central ward was facing a future of bleak prospects. His parents separated in 2018 and deserted their home just after he joined high school at the age of 14. The house on the compound was demolished, throwing the young Jacob into a state of despair, and leaving him to fend for himself.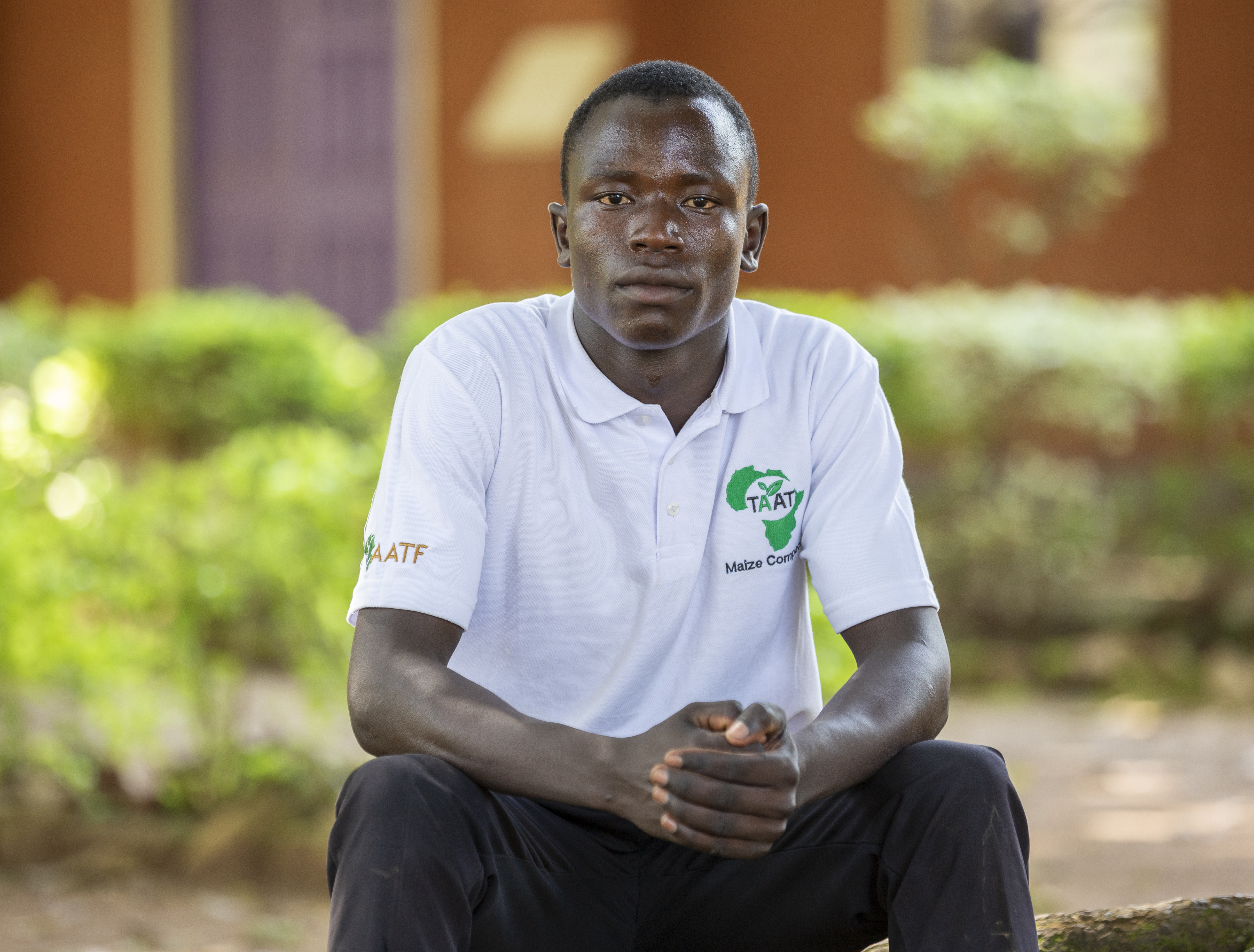 For a short time, he lived with his maternal grandparents. Eventually, he was left to his own wits; he dropped out of school at the end of form one in 2018, got a cheap rental house and sat at home for a whole year struggling to survive.
He became a casual labourer working in people's farms, doing jobs such as planting and weeding for other farmers. During one of his farming gigs in 2019, he met Margaret Awinja, the coordinator of Western Region Farmers Network (WEREFANET), a local Community-Based Organization (CBO) in Kakamega County whose mission is to support primarily women, youth, and people living with disabilities.
In the same year, Jacob joined the Community Youth Economic Empowerment Project, a group under WEREFANET, whose members receive trainings and inputs through the TAAT Project.
Margaret was on a demonstration farm, explaining good farming practices to local farmers and on that day, Jacob was working on that farm. At the end of the demonstration, Jacob approached Margaret to seek help. She turned to what she had experienced in all its transformative glory-the power of successful agriculture and in particular, maize farming.
She helped Jacob look for a piece of land to lease. She also introduced him to a young man called Brian Eshitemi, who came from a similar background as Jacob and was also struggling to support himself. Together, they leased a one-acre farm to plant maize.
With Margaret's advice, they planted the popular WE1101 maize variety in 2020. This variety, promoted by the Technologies of African Agricultural Transformation (TAAT) Project, was produced through an AATF managed project, the Water Efficient Maize for Africa Project (WEMA). Going under the brand name DroughtTEGO®, the WE1101 is so popular that the local farmers in the region have turned away from the traditional Shipindi variety which had half the returns. The decision to plant this maize variety turned out better than Jacob had expected.
"The benefits of being a member of this group have been immense. I receive improved seeds, appropriate fertilizers, and on-ground support on the farm where they ask me what challenges I am facing and they help me to overcome them," he narrates.
Farming has become the financial boost that has put Jacob on a path to self-reliance and gives him hope for a promising future. Jacob was able to go back to school in 2020 and joined form two in Bukolwe Secondary School in Butere sub-county.
During 2020 short rain season, Jacob and his friend Brian managed to get a total of eight bags of maize in their first harvest of WE1101 of leasing the land, compared to the usual two to three bags harvested during the same period by those using recycled seeds.
Jacob sold his share of 4 bags for Ksh. 2000 each bag, giving him a total of Ksh. 8, 000 (approximately $80). He used part of the money to pay for school supplies including writing and photocopy paper. He also bought his school uniform. The maize proceeds also helped him settle his monthly house rent of Ksh. 1,000 for three months in advance and buy other foods to vary his diet.
Margaret sees great potential in Jacob, not just as a farmer but as an individual. She is especially proud of his efforts in encouraging his fellow youth in the sub-county to engage in farming to get income and to avoid falling into social vices.
The TAAT Project seeks to scale out and disseminate Water Efficient and other climate smart maize varieties and complementary technologies across 11 countries in Africa.
The maize technology toolkit being deployed and promoted includes elite WEMA varieties such as DroughtTEGO® developed by AATF and its partners, appropriate fertilizer blends, efficient pest, disease and weed management, post-harvest management and mechanization of farming operations, among others. Further, the project has built partnerships with 34 farmer groups in Kenya, helping to enhance their productivity.
Maize plays an especially important role as a food crop in Africa. Not just for the livelihoods of 300 million people who directly depend on the crop but also for the hundreds of millions of others who do so indirectly. Maize is the most important staple food crop for farmers in Africa, consumed by 50 per cent of the region's population.
Smallholder farmers in Sub-Saharan Africa have always grown maize for food, feed, and income to better their livelihood. These factors played a part in driving Jacob towards growing Maize.
Jacob's story reflects the potential of youth to drive agricultural development in Africa. The TAAT maize compact is tapping into this potential by encouraging youth to get involved in agriculture across the entire maize value chain.
With the region's maize demand expected to double by 2050 and consumption set to increase along with projected population growth, young farmers like Jacob can reap the benefits of maize farming both now and into the future.