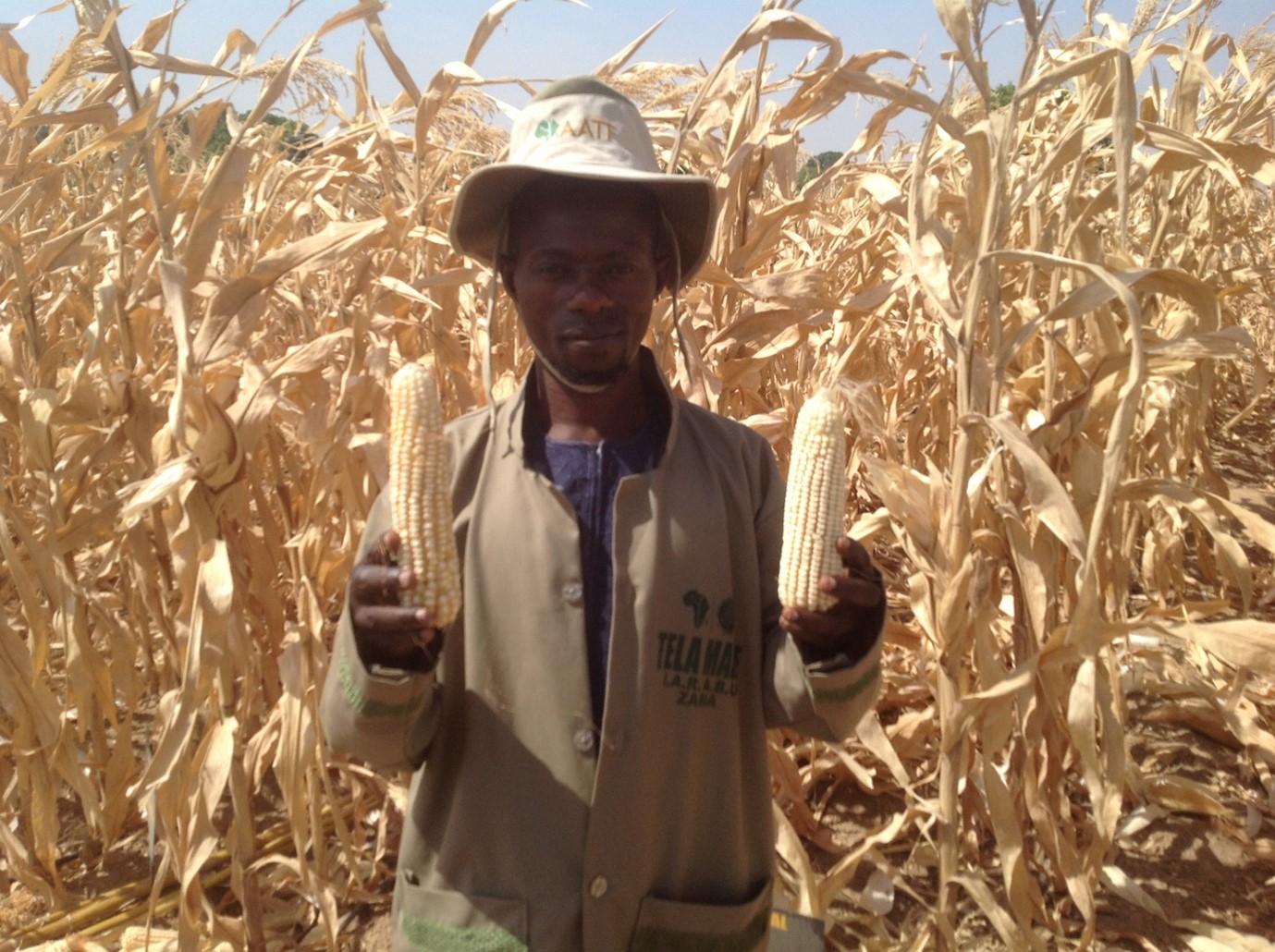 [Abuja, Nigeria: October 25, 2021] The newly released TELA Maize variety in Nigeria will expand farmers options to either grow GM TELA varieties or conventional Drought TEGO varieties or their local open-pollinated varieties just like farmers in another part of the world, the Institute for Agricultural Research (IAR), Ahmadu Bello University has said.
''The choice of technologies to use rests with the farmers. However, based on the mandate given to us by government, it is our obligation to develop those technology options with potentially high economic and food security benefits to farmers and our country," said Prof. Mohammed Ishiyaku, Executive Director, IAR when addressing newsmen at a press conference today in Abuja.
Prof Ishiyaku said that TELA maize varieties are genetically modified to tolerate mild drought and to self-protect against certain insect pests especially stem borer and fall armyworm (FAW).
"Adopting those technologies is a responsibility left to farmers who are smart and know what is good for them once they see it. ''
Thanking the Federal Government for approving the release of the variety to farmers, Prof Ishiyaku confirmed that the TELA Bt maize has been under cultivation in South Africa by smallholder farmers since 2016. ''Farmers are already benefiting from the varieties in protecting against the target pests, especially FAW. It is safe and hence Nigerian farmers should also benefit," he said.
He said that with the recent approval given by the National Biosafety Management Agency, TELA maize varieties will be evaluated by farmers across the maize growing regions in the country for them to select varieties that they prefer for cultivation. "The choice should be the responsibility of farmers, so they can benefit from Genetically Modified technology as South African farmers are doing."
According to him, Farmers in the country who spend up to 50,000 naira or more per acre to buy chemicals and spray against these target pests will get some relief and appreciate the TELA technology more in terms of higher yield and the savings from the purchase of chemicals for spraying their crop.
"It is estimated that two hundred and sixty-eight billion naira (N 268, 000,000,000.0) is spent annually in the purchase of chemical insecticides used to spray maize in Nigeria. This is a direct benefit from savings in that regard. The second major benefit is the prevention of crop failure to the effect of drought which is becoming frequent these recent years," he added.
Prof Ishiyaku said that Africa is known as a drought-prone continent because three out of the four global drought events in the last two decades have occurred in Africa occasioned by climate change. In addition to drought, incidences of insect pests especially the recent out breakout of the invasive FAW are big threats to maize production in Africa with an estimated annual yield loss worth USD 2.48 – 6.19 billion in 12 countries including Nigeria. 
"FAW poses a significant risk to 12.5 million hectares of maize farms in Nigeria. What could be a better technological intervention that is safe for the environment, human health, and the local economy, to curb these major threats to maize production in Nigeria than the opportunity presented by TELA Maize varieties?'' He asked.
Prof Ishiyaku further indicated that the TELA maize varieties when adopted by just 10% of Nigerian farmers will give an additional cost-benefit of fifty-eight billion naira annually to the country because of the yield advantage of 19% compared with conventional maize varieties currently grown by farmers.
Also speaking, Prof. Garuba Sharubutu, Executive Secretary, Agricultural Research Council of Nigeria (ARCN) said that all agricultural research in the country is tailored towards achieving the federal government policies and programmes on food security and sufficiency.
Prof. Sharabutu said Nigerians have no reasons to fear any product from any of the government-funded research institutes as all necessary measures are taken to ensure they followed approved regulations guiding such research.